Tornano finalmente gli Stearica
Il nuovo album Golem 202020 uscirà a marzo
L'attesa è terminata e sono felice di poter parlare di nuovo di un gruppo che mi sta particolarmente a cuore. Sin dalla formazione, il trio torinese è dedito ad una profonda ricerca sonora ed emotiva. Il loro slancio empatico li ha sempre portati più ad un contatto diretto con pubblico ed addetti al lavori tramite la dimensione live, che alla registrazione in studio. Con soli 2 album in oltre 20 anni di attività, non si può dire che il trio abbia inflazionato il mercato discografico. Insomma, per chi non l'avesse ancora capito, il chitarrista Francesco Carlucci insieme ai suoi due compagni di avventura Davide Compagnoni (batteria) e Luca Paiardi (basso), sono sempre andati controcorrente rispetto alle tendenze italiche che vedono la necessità di proporre suoni che possano tranquillizzare e sedare gli ascoltatori ed i fruitori di musica.
Gli Stearica non facevano sentire la loro voce dal 2017, anno in cui avevano pubblicato una lunga traccia della durata di 20 minuti e 20 secondi per festeggiare i 20 anni di attività della band. hanno presentato in anteprima una nuova canzone, "In Flames", tratta dall'imminente album Golem 202020 in uscita a marzo 2021. L'album è composto da 10 tracce tratte dalla colonna sonora di Der Golem, wie er in die Welt kam, film muto diretto nel 1920 da Carl Boese e Paul Wegener e interpretato da Wegener stesso, ad oggi considerato un capolavoro del cinema espressionista tedesco. Puoi ascoltare "In Flames" qui sotto.
Il progetto è nato nel 2011 da una proposta della direzione artistica del festival MiTo in collaborazione con il Traffic Free Festival, proposta che la band ha accettato con gran piacere visto che che da tempo il trio desiderava cimentarsi con il grande schermo. Quanto al titolo, "Der Golem" è stato scelto per l'occasione dalla direzione del Museo Nazionale Del Cinema, in occasione del restauro della pellicola operata della Cineteca di Bologna. Il ritmo incalzante e le scenografie visionarie del film si sposano perfettamente con la dinamicità della loro musica. Le dieci tracce, che coprono i cinque capitoli in cui è suddiviso il film, sono state registrate dal vivo nel 2014 durante una sessione in studio organizzata per immortalare l'opera, con ulteriori abbellimenti aggiunti nel 2019 pur mantenendo l'arrangiamento originale.
"La prima traccia che possiamo rivelare da questo album è un viaggio tra le fiamme." dice il chitarrista Francesco Carlucci. "Il Golem, impazzito dalla passione dell'amore, dà fuoco alla torre e rapisce la figlia del Rabbino diventando ribellione e distruzione. Inizia una corsa disperata verso il nulla, la corsa del fuoco e del possesso. Il soprannaturale è indomabile, la passione è indomabile . Il rabbino resta una guida per il suo popolo, una garanzia di sicurezza e protezione, perfino dalla creatura che ha generato. La salvezza è per tutto il villaggio, non per un solo uomo. Il mago ci tiene uniti: la salvezza è un gioco di squadra, ora più necessario che mai. "
Golem 202020 uscirà il 19 marzo in formato digitale e in edizione limitata, 300 copie in vinile rosso 180 gr. Verrà pubblicato in tutto mondo dall'etichetta indipendente Monotreme Records ad eccezione dell'Italia, dove sarà distribuito da Garrincha.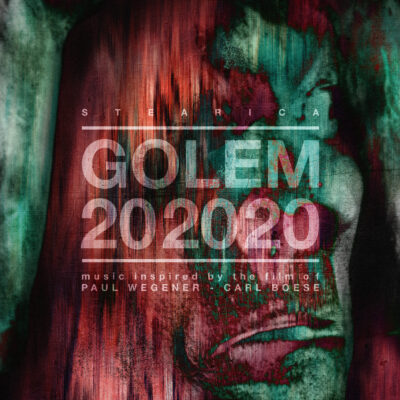 01. The Stars Reveal
02. How We Came Into The World
03. The Great Spell
04. The Shem
05. A Strange Servant
06. The Rose Festival Part 1
07. The Rose Festival Part 1
08. Rejoice Ye, Ye!
09. In Flames
10. Der Golem