The Van Pelt, formazione indie-punk newyorkese formata da Chris Leo nel 1993 e tornata nel 2014 con un album di vecchie registrazioni intitolato 'Imaginary Third', ha annunciato la pubblicazione di un nuovo album dal vivo. Si intitolerà 'Tramonto' e sarà prodotto dall'etichetta italiana Flying Kids Records in collaborazione con l'inglese Gringo Records. Il disco è stato registrato durante il tour europeo del 2014. L'album è stato registrato durante la prima tappa di quel tour, un concerto segreto tenutosi a Ferrara in un giardino, con un pubblico esclusivo formato da amici dei componenti della band. Su come sia stato per la band rivisitare le proprie canzoni dopo 20 anni, il cantante e chitarrista Chris Leo ha detto:
'Anche se amavo andare in tour, ho sempre odiato suonare dal vivo. Senza spiegare la cosa nei dettagli, ho sempre trovato difficile conciliare il motivo per cui la mia arte sonora doveva essere per forza anche visiva. Per questo motivo le mie performance sul palco non sono mai state all'altezza della situazione, e mi sono sempre trovato in difficoltà, per non dire in imbarazzo, a comunicare tra una canzone e l'altra e a parlare con la gente dopo il concerto. Ma questi nuovi spettacoli sono stati diversi. Dopo così tanti anni senza aver più suonato, era tutto nuovo anche per me. Ho amato cantare di nuovo i testi che avevo scritto 20 anni prima. Ho amato suonare di nuovo le composizioni con la mia chitarra e ascoltare i suoni provenienti dagli altri componenti del gruppo. È stato tutto talmente inebriante che non ho pensato nemmeno per un momento a quello che provavo on stage tanti anni fa. Penso che il gruppo non ha mai suonato così bene come adesso, e avevamo bisogno di un documento sonoro che lo dimostrasse'.
L'album uscirà nelle versioni digitale e doppio LP con copertina apribile limitato a 500 copie. La pubblicazione è prevista per il 30 settembre, ma è possibile già effettuare il pre-order a questo link. La pubblicazione di questo album e la riuscita del tour europeo ha spinto il gruppo ad iniziare una nuova fase della propria carriera. La band sta già pianificando un ulteriore tour e la registrazione del primo disco di materiale originale dall'uscita di 'Sultans of Sentiment' nel 1997.
Guarda qui sotto la tracklist e la copertina del disco.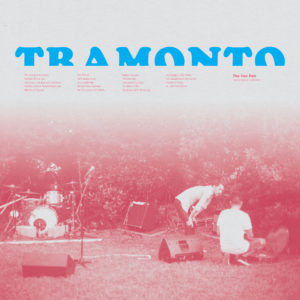 Tramonto: 
01. The Young Alchemists
02. Nanzen Kills a Cat
03. The Good, The Bad And The Blind
04. Yamato, Where People Really Die
05. ABCD's of Fascism
06. The Threat
07. Let's Make a List
08. It's a Suffering
09. We Are The Heathens
10. Do The Lovers Still Meet at the Chiang Kai-Shek Memorial?
11. Magic Fantasy
12. The Betrayal
13. The Speeding Train
14. It's New To Me
15. My Bouts With Pouncing
16. His Steppe Is My Prairie
17. His Saxophone Is My Guitar
18. Pocket of Pricks
19. St John The Divine