What Nature Gives…Nature Takes Away  verrà pubblicato dalla Cherry Red il 7 giugno
La band suonerà in giro per l'Europa a partire da luglio.
Abbiamo parlato più di una volta su queste pagine dei The Membranes, gruppo formato a Blackpool agli albori degli anni '80 dal bassista John Robb. La band rimase attiva dal 1981 al 1989, incidendo 6 album ed una manciata di singoli ed EP. Il loro art-punk interessante e spigoloso, arguto e scazzato, ma non privo di una spiccata componente pop, riuscì a catturare solo lo status di gruppo di culto e l'ammirazione di una piccola fetta di pubblico tra cui, fortunatamente, c'erano anche alcuni personaggi di un certo rilievo per la storia del rock tra cui John Peel, Mark Stewart e Steve Albini. Dopo lo scioglimento del gruppo, Robb si dedicò quasi esclusivamente al mestiere di giornalista, sia televisivo per la BBC, sia come autore di libri, pubblicando, tra le altre cose, anche una splendida retrospettiva sul periodo punk intitolata Punk Rock: An Oral History, fino a quando nel 2010 decise di riformare la band.
Il doppio album uscito nel 2015 intitolato Dark Matter/Dark Energy, ce li ha fatti ritrovare in forma strepitosa. Dopo 4 anni di silenzio, la band è pronta a tornare. Il nuovo lavoro intitolato What Nature Gives…Nature Takes Away, verrà pubblicato il 7 giugno dalla Cherry Red, l'album è già disponibile per il pre-order a questo link.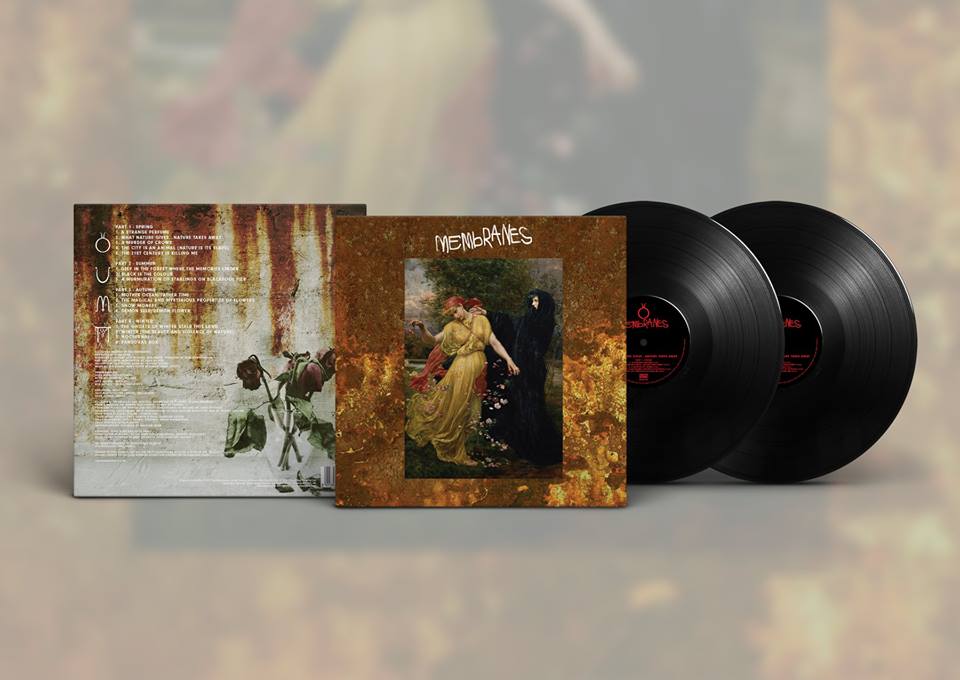 Il nuovo album contiene 18 canzoni divise in 2 album, ogni facciata è riferita ad una stagione diversa dell'anno, ed è composta da canzoni che esplorano il dualismo presente nella natura. Un lavoro diversificato con canzoni che variano dal dark, ad un cinematico post-punk, esplorando sesso e morte. L'album è stato concepito come i dipinti di Hieronymus Bosch: "canzoni selvatiche e disarmoniche su corvi, fiori di demoni, strani profumi, petali voluttuosi, oceani voluminosi e stagioni infide, la poesia della vita e della morte".
Ad accompagnare la band in questo viaggio c'è un coro formato da venti voci e una serie di artisti come la leggendaria folksinger britannica Shirley Collins, e Jordan e Kirk Brandon dei Theatre Of Hate. Per celebrare l'uscita del disco, i Membranes intraprenderanno un tour in GB e suoneranno in vari festival in Mexico, ed in Europa. La lista delle loro date in GB la potete trovare qui. Guarda il video del nuovo singolo "A Strange Perfume" qui sotto.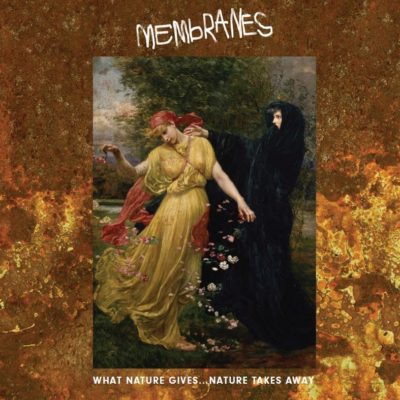 What Nature Gives… Nature Takes Away
SIDE ONE: (SPRING)
1. A Strange Perfume
2. What Nature Gives … Nature Takes Away
3. A Murder Of Crows
4. The City Is An Animal (Nature Is Its Slave)
5. The 21st Century Is Killing Me
SIDE TWO: (SUMMER)
3. Deep In The Forest Where The Memories Linger
4. Black Is The Colour
5. A Murmuration Of Starlings
On Blackpool Pier
SIDE THREE (AUTUMN)
1. Mother Ocean/Father Time
2. The Magical And Mystical Properties Of Flowers
3. Snow Monkey
4. Demon Seed/Demon Flower
SIDE FOUR (WINTER)
1. The Ghosts Of Winter Stalk This Land
2. Winter (The Beauty And Violence Of Nature)
3. Nocturnal
4. Pandora's Box