Serfs Up! verrà pubblicato dalla Domino il 16 aprile
La band, ridotta a trio, ha registrato il nuovo album a Sheffield.
Abbiamo parlato più volte su queste pagine dei Fat White Family come uno dei gruppi più importanti partoriti negli ultimi anni dalla terra di Albione. Nel 2016 il loro secondo album Songs For Our Mothers aveva confermato la band multietnica di Brixton, sud di Londra, come una delle realtà più pericolose, irriverente, scabrosamente oneste, e tra i gruppi più incredibilmente vitali nel Regno Unito. Due anni dopo l'uscita del disco, deve essere successo qualcosa all'interno del gruppo. I fratelli Lias and Nathan Saoudi si sono trasferiti a Sheffield, nei loro Champzone Studios, cercando al nord l'ispirazione per comporre nuove canzoni. Presto si è unito a loro il chitarrista Saul Adamczewski riducendo di fatto la band come un trio, e nel quartiere Attercliffe della cittadina britannica, hanno terminato di registrare nell'autunno del 2018 il nuovo Serfs Up! con l'aiuto del collaboratore di vecchia data Liam D. May e con Baxter Dury come ospite in "Tastes Good With The Money".

Il disco verrà pubblicato il 19 aprile dalla loro nuova etichetta, la Domino, e vede un cambio notevole di ambientazioni sonore. La presentazione del nuovo disco affidata ad un comunicato stampa è a dir poco spiazzante:
"Serfs Up! è un'opera lussureggiante e magistrale, lasciva e personale. Tropicale, simpatetica e monumentale. Invita gli ascoltatori ad entrare invece che a respingerli. I Fat White Family hanno chiuso con i precedenti schemi comportamentali predefiniti, e il loro terzo album annuncia l'alba di un nuovo giorno. Canti gregoriani, beat glam, fioriture d'archi, sofisticati cocktail di exotica, electro funk e gli spiriti gemelli di Alan Vega e Afrika Bambaataa che punteggiano il disco in varie circostanze, mentre la produzione drammatica di "Feet" la rende immacolata, come Kate Bush nell'era di Hounds Of Love. Lo sporco è ancora lì, naturalmente, ma raschialo via e troverai un motore che fa le fusa, fatto di cromo lucente. Qui e li tra gli arrangiamenti ci sono tracce di tropicalia anni '60, Velvet/Bowie, dancehall digitale anni '80, l'easy listening di David Axelrod, gioiosi crescendo di synth alla Pet Shop Boys, acid house, dub post-PIL, murder ballads metropolitane, doom-disco, slow-mo psychedelia, quindi mentre ci avviciniamo al momento dell'uscita solo un pazzo potrebbe negare che Serfs Up! è qualcosa di molto speciale Non è più la pura malevolenza musicale che la famiglia Fat White ha messo in circolazione; ma è musica coltivata per la testa, il cuore. Per i bambini non nati di domani. Dove prima avevano scandagliato una sporca Gran Bretagna fatta di negozi di sigarette elettroniche, e stagnole annerite, un regno crepuscolare abitato da Shipman, Goebbels e Mark E. Smith, i Fat White Family ora abitano completamente un altro cosmo. Serfs Up! è il prodotto di una banda di fuorilegge rinata. In pochi avrebbero potuto prevederlo: i Fat White Family sono sopravvissuti. I Fat White Family sono diventati saggi. I Fat White Family sono diventati sofisticati".
E anche se sappiamo che i comunicati stampa vanno sempre presi con beneficio di inventario, da una parte c'è la preoccupazione della normalizzazione di un gruppo che ci era piaciuto proprio per il suo essere politicamente scorretto, dall'altra c'è la curiosità di ascoltare cosa possono avere escogitato i tre londinesi. Mentre aspettiamo il 16 aprile ascoltiamo il primo estratto "Feet", guardiamo la copertina e leggiamo la tracklist qui sotto. Il pre-order del disco è già possibile a questo link.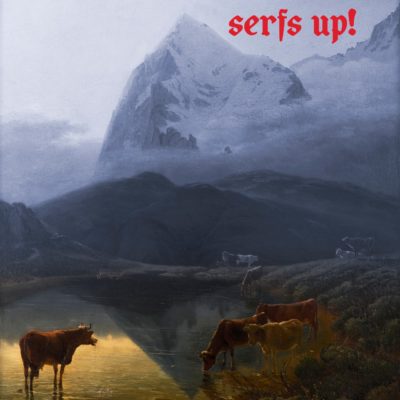 1. Feet
2. I Believe In Something Better
3. Vagina Dentata
4. Kim's Sunsets
5. Fringe Runner
6. Oh Sebastian
7. Tastes Good With The Money
8. Rock Fishes
9. When I Leave
10. Bobby's Boyfriend