Cinque anni dopo essersi riuniti esclusivamente per alcuni concerti, sembra che i The Dream Syndicate stiano per pubblicare davvero il primo album dopo ben 29 anni di silenzio. Steve Wynn ha rivelato che nell'album ci sarà un brano cantato dalla bassista e membro fondatore della band Kendra Smith. La Smith si è tirata fuori dalla reunion, ma non ha saputo dire di no ad apparire come ospite in un brano che lo stesso Wynn ha definito come "il perfetto finale del disco."
Wynn aveva annunciato sul suo sito ufficiale alla fine dell'estate che si erano praticamente  concluse le registrazioni del quinto album in studio dei The Dream Syndicate, l'attesissimo seguito di 'Ghost Stories' uscito nel 1988. Aveva scritto: "E' un lavoro incredibilmente buono, e non vediamo l'ora di farlo uscire," aggiungendo che la band stava cercando l'etichetta giusta per pubblicarlo.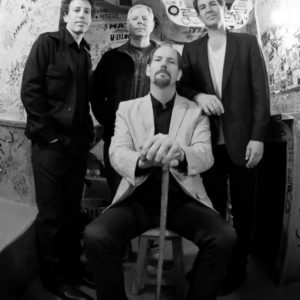 Il titolo del disco non è stato ancora annunciato, e nemmeno è stata fornita una data seppur presunta di uscita. Ma Wynn ha preparato una nuova biografia della band per l'agenzia di booking Billions, che parla già del nuovo album registrato dalla nuova lineup della band che vede oltre a Wynn, il batterista originale Dennis Duck, il bassista Mark Walton (che si unì al gruppo dopo l'uscita di 'Medicine Show') e il chitarrista Jason Victor, che suona nei The Miracle 3, l'altra band di Steve Wynn. Mentre aspettiamo novità sull'uscita del disco, i The Dream Syndicate hanno annunciato i primi show del 2017: un paio di concerti in Pennsylvania a maggio e un'apparizione in un festival norvegese il mese successivo. Stay tuned.