Live At The Democratic National Convention 2000  venne registrato dal vivo nel 2000 e sarà disponibile in vinile per il Record Store Day
Il concerto dei Rage Against the Machine fu organizzato proprio in segno di protesta contro il sistema bipartitico americano. La band aveva preso in considerazione l'idea di suonare un concerto di protesta già dall'aprile di quell'anno. Nei mesi precedenti alla convention, il canale via cavo MTV iniziò a pianificare un grande concerto gratuito che si tenesse nel centro di Los Angeles come parte della campagna "Choose or Lose" che voleva invitare i giovani a votare e all'impegno politico. Per la nota emittente televisiva i RATM erano la band ideale per veicolare questo messaggio.
Tuttavia, l'aggressivo messaggio politico dei RATM combinato con il titolo del loro album più recente (The Battle of Los Angeles), furono il motivo di serie preoccupazioni per l'amministrazione della città di Los Angeles. La domanda da parte di MTV per l'organizzazione del concerto fu respinta dal sindaco della città californiana e l'emittente alla fine rinunciò ai suoi tentativi di programmarne uno. Dopo che i tentativi di MTV fallirono, un certo numero di gruppi di protesta acconsentirono ad assegnare alla band un'ora sul palco nella Protest Zone. Ai RATM fu data una fascia oraria in prima serata, proprio contemporaneamente al discorso inaugurale della convention, tenuto dall'allora presidente Bill Clinton.
Le 5000 copie di Live At The Democratic National Convention 2000 verranno stampate come uscita esclusiva del Record Store Day il 21 aprile in un'edizione limitata in vinile. Guarda qui sotto la copertina, la tracklist ed il video del concerto.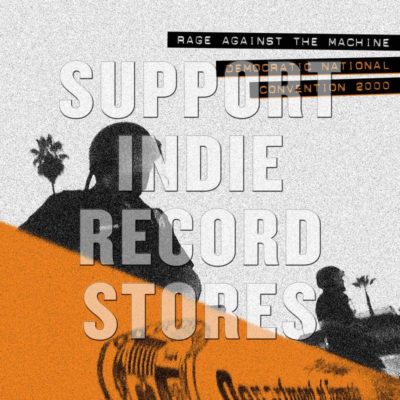 Live At The Democratic National Convention 2000
1. Bulls on Parade
2. Testify
3. Guerilla Radio
4. Sleep Now in the Fire
5. Freedom
6. Killing in the Name