Il canadese parla di Roxy – Tonight's the Night Live l'album registrato dal vivo nel 1973 che sarà disponibile in vinile per il Record Store Day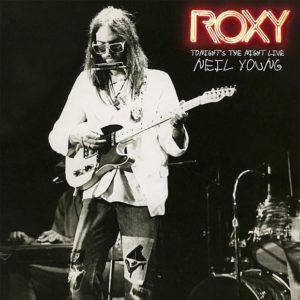 Neil Young ha parlato di Roxy – Tonight's the Night Live, una attesissima registrazione dal vivo effettuata nelle notti tra il 20 ed il 22 settembre 1973 al Roxy Theatre di Los Angeles. Young e la sua band, i Santa Monica Flyers, erano all'epoca il gruppo di apertura del locale, e suonarono l'album per alcuni giorni dall'inizio alla fine, senza aggiungere altre canzoni, per due concerti a serata. Queste performances si tennero subito dopo la registrazione del seminale Tonight's the Night, e naturalmente fu il debutto live per tutte le canzoni del disco.
Tonight's the Night è un disco estremamente scuro, sin dalla copertina in bianco e nero, e fu pubblicato solo nel 1975, ben due anni dopo la registrazione. Neil Young lo dedicò a due suoi carissimi amici scomparsi, entrambi morti per droga. Il primo è il roadie Bruce Berry, mentre il secondo è Danny Whitten, membro dei Crazy Horse. L'album uscì così in ritardo rispetto alla registrazione proprio a causa degli argomenti scuri e pessimisti trattati nell'album. La casa discografica e lo stesso Young ne ritardarono l'uscita dopo il basso riscontro commerciale sia di Time Fades Away che del successivo On The Beach.
Roxy – Tonight's the Night Live verrà pubblicato come uscita esclusiva del Record Store Day il 21 aprile in un'edizione limitata in doppio vinile. L'edizione standard a singolo LP, il CD e la versione digitale invece verranno pubblicate il 24 aprile.