"Shiny One"  è  il primo singolo estratto da DOVE, album che rompe i 23 anni di silenzio dei BELLY. Ecco il ritorno della band creata da Tanya Donelly forse più conosciuta per aver fondato i  Throwing Muses ed i The Breeders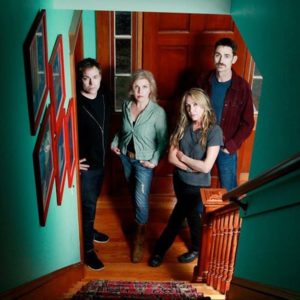 Solo pochi giorni fa avevamo parlato dell'atteso ritorno dopo 10 anni dei The Breeders, il nuovo All Nerve verrà pubblicato il 2 marzo dalla 4AD. Tanya Donelly, proveniente dalle Throwing Muses aveva fondato la band nel 1990 insieme a Kim Deal proveniente dai Pixies. Ma la Donelly aveva lasciato dopo solo un album ed un EP la band dell'amica, per andare a tentare altre strade. Nel 1993 mise insieme i Belly insieme a Fred Abong al basso e ai fratelli Tom e Chris Gorman rispettivamente alla chitarra e alla batteria. Con questa formazione registrarono l'esordio Star, mentre il seguente King (1995) vedeva Gail Greenwood al basso al posto di Abong. Nonostante l'ottima accoglienza di critica e pubblico la band si sciolse nel 1996. Nel 2016 la band si è riformata nell'ultima incarnazione per una serie di date in USA e Gran Bretagna prima di entrare in studio di registrazione.
Oggi anno annunciato che il loro primo album dopo 23 anni si intitola DOVE, e verrà pubblicato il 4 maggio. La band ha anche condiviso il primo singolo intitolato "Shiny One". Ascoltalo qui sotto e guarda anche la copertina e la tracklist.
"Sono davvero già molto affezionata a 'Shiny One'", ha detto la Donelly in un comunicato stampa. "È stata la prima canzone completamente collaborativa che abbiamo mai scritto. La bassista Gail Greenwood ha scritto il riff e il coro, il chitarrista Tom Gorman ed io abbiamo socritto le parti in versi e il bridge. Le parti del batterista Chris Gorman hanno modellato la direzione e l'atmosfera. Quando ascolto questa canzone è come se sentissi tutti e quattro noi in parti uguali. "
DOVE è stato registrato e prodotto dal chitarrista Tom Gorman insieme a Paul Q. Kolderie. È appena il terzo album a nome Belly, dopo King ed il loro album di debutto del 1993 intitolato Star.