Per gli amanti del jazz, il cofanetto comprendente le ristampe dei 10 album registrati per l'Atlantic è davvero imperdibile
Ornette Coleman è stato un artista imprescindibile nella genesi del jazz. Il suo percorso musicale è stato, per alcuni versi, un guanto di sfida gettato verso i puristi di questo genere musicale. Tra il 1959 ed il 1961, il sassofonista e compositore ha pubblicato ben 6 albums per la Atlantic Records che hanno contribuito in maniera fondamentale alla creazione del movimento avant-garde e free jazz. Nella maggior parte dei suoi album per la Atlantic, Coleman ha registrato con un quartetto che comprendeva il trombettista Don Cherry, oltre a Charlie Haden o Scott LaFaro al basso, e Billy Higgins o Ed Blackwell alla batteria. Unica eccezione degna di nota è il famoso Free Jazz, un album che comprende un'unica traccia in cui Coleman ha diretto un doppio quartetto attraverso un'improvvisazione collettiva di quasi 40 minuti. Il mix stereo utilizzato per l'album separa i quartetti in canali diversi; uno a destra e l'altro a sinistra.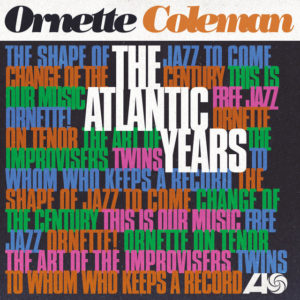 Questi albums, insieme a più di due ore di outtakes da varie sessioni di registrazione, sono stati messi insieme in un cofanetto di 10 LP intitolato Ornette Coleman: the Atlantic Years. Gli album sono stati completamente rimasterizzati da John Webber agli AIR Studios. Il cofanetto verrà pubblicato l'11 maggio dalla Rhino. Nel dettaglio all'interno ci saranno i seguenti albums: The Shape Of Jazz To Come (1959), Change Of The Century (1959), This Is Our Music (1960), Free Jazz: A Collective Improvisation (1960), Ornette! (1961), e Ornette On Tenor (1961). Ci sono anche tre compilations uscite negli anni '70: The Art Of Improvisers (1970), Twins (1971), e To Whom Who Keeps A Record (1975), che comprendono le outtakes da tutti e sei gli album in studio.
Alcuni di questi album sono da molto tempo fuori catalogo nell'edizione in vinile. Il decimo album, The Ornette Coleman Legacy, comprende sei tracce pubblicate per la prima volta nel 1993 in un altro cofanetto della Rhino intitolato Beauty Is A Rare Thing, ma non era mai stato stampato prima in vinile.
Il prezioso cofanetto contiene anche nuove note di copertina scritte dal critico musicale Ben Ratliff, e molte fotografie rare ed inedite scattate dal leggendario fotografo jazz Lee Friedlander.