L'attesissimo "Eat The Elephant" uscirà il 20 aprile
Ne avevamo parlato più di una volta negli ultimi mesi. Adesso è arrivato l'annuncio ufficiale. Gli A Perfect Circle sono tornati. Quattordici anni dopo l'uscita di eMOTIVe la band capitanata da Maynard James Keenan torna con Eat the Elephant. Il nuovo album verrà pubblicato il 20 aprile dalla BMG.
Contestualmente all'annuncio, il gruppo ha condiviso una nuova traccia. Ascolta "TalkTalk" qui sotto. Gli APC sono pronti per imbarcarsi in un lungo tour. Leggi le date sul loro sito web. La prima data europea confermata è quella che vedrà la band esibirsi il 1 giugno sul palco del Rock Im Park a Norimberga, Germania, mentre il 1 luglio ci sarà l'unica data italiana al festival Rock The Castle presso il Castello Scaligero di Villafranca (VR). I primi rumors che parlavano dell'atteso ritorno risalgono ad aprile, quando gli APC avevano annunciato di aver sottoscritto un contratto con la BMG. In un comunicato stampa, il fondatore Billy Howerdel aveva già confermato che la band aveva già iniziato a lavorare sul loro primo nuovo album dal 2004. La line-up attuale della band vede insieme ai due fondatori, Matt McJunkins (Eagles of Death Metal, The Beta Machine), Jeff Friedl (The Beta Machine, Devo), e l'ex chitarrista degli Smashing Pumpkins James Iha.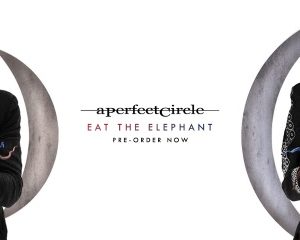 Il nuovo album comprenderà "Feathers", brano che aveva esordito on the road, e gli altri due singoli già condivisi "The Doomed" e "Disillusioned". Il disco è stato co-prodotto da Dave Sardy (Autolux, Slayer), ed è disponibile per il pre-order sul sito ufficiale della band in diversi formati: CD, LP 180 Gr. accompagnato da uno speciale box-set e digitale. È inoltre possibile acquistare un mazzo di carte personalizzato. In occasione del Record Store Day, verrà pubblicata un'edizione limitata in vinile bianco 180 Gr. con una copertina alternativa. Leggi la tracklist qui sotto.
01. Eat The Elephant
02. Disillusioned
03. The Contrarian
04. The Doomed
05. So Long, And Thanks For All The Fish
06. TalkTalk
07. By And Down The River
08. Delicious
09. DLB
10. Hourglass
11. Feathers
12. Get The Lead Out