Se siete stasera dalle parti di Roma e la voce di Chris Cornell vi è entrata nel cuore senza uscirne mai. Se avete tremato con "Jesus Christ Pose", o vi siete emozionati con "Black Hole Sun". Se non resistete alla tentazione di mettere sul piatto un vecchio disco dei Soundgarden, Audioslave o Temple Of The Dog. O se semplicemente avete voglia di ascoltare delle belle canzoni suonate da tantissimi splendidi musicisti della capitale, allora il consiglio è quello di riempire stasera la Locanda Atlantide.
A partire dalle 21:30 nel locale di Via dei Lucani 22b molti musicisti si alterneranno sul palco per AROUND THE CORNELL uno splendido tributo ad un artista che ha significato moltissimo per una intera generazione. L'idea di Valentina Valeri (se vi capita ascoltate in fondo alla pagina il suo ultimo splendido lavoro intitolato One Day Left), ha trovato subito il sostegno dell'etichetta Lostunes e del locale di Via Dei Lucani.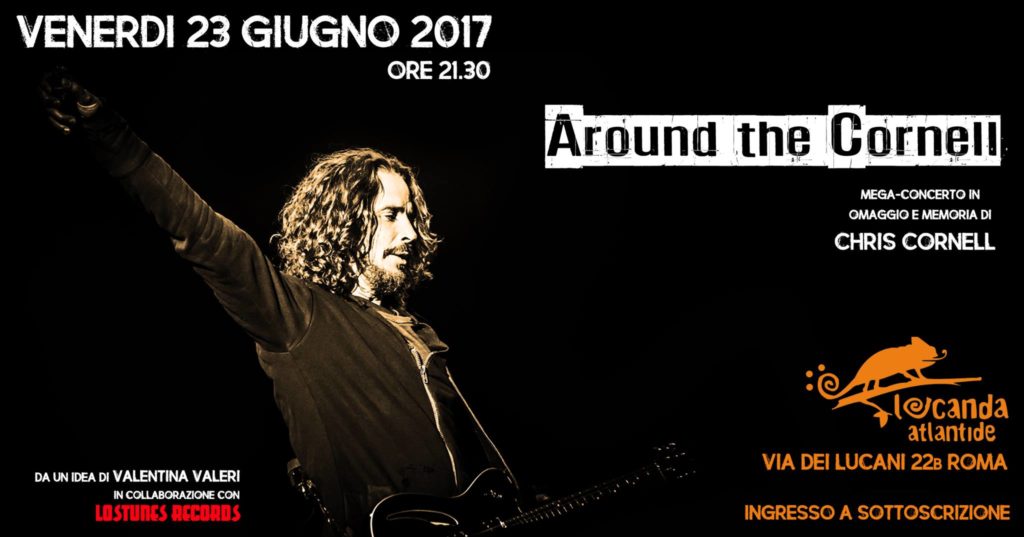 Un plauso a Valentina che ha organizzato l'evento e ha spiegato così la sua decisione di organizzare l'evento:
"Lo scorso 18 maggio a Detroit, Chris Cornell si toglie la vita, una volta rientrato in hotel dopo quello che evidentemente per lui, sin dall'inizio, sarebbe dovuto essere il suo ultimo show. La sua morte ha toccato moltissime persone, in tutto il mondo, e da qui nasce l'idea di un mega-concerto in cui tanti musicisti si alterneranno sul palco di Locanda Atlantide per omaggiare questo grande artista, parlando di lui attraverso le sue canzoni. Spero sarete tantissimi."
Non mancate! Grande musica suonata da splendidi musicisti! L'ingresso è a sottoscrizione.