Dopo aver condiviso ieri una nuova canzone, Father John Misty ha annunciato il suo terzo album in studio. Si intitolerà come la traccia appena condivisa, 'Pure Comedy', e verrà pubblicato il 7 aprile dalla Bella Union in Europa e dalla Sub Pop nel resto del mondo. Il disco, che dura ben 75 minuti, è stato prodotto dallo stesso Josh Tillman insieme a Jonathan Wilson, e vede il ritorno sulle scene del barbuto songwriter dopo l'uscita del precedente 'I Love You, Honeybear' nel 2015. Guarda la tracklist completa e la copertina dell'album qui sotto. Tillman ha anche pubblicato 'Pure Comedy: The Film', un documentario di 25 minuti sulla realizzazione del disco. Il film, diretto da Tillman e da Grant James, vede Tillman suonare le nuove canzoni nello studio di registrazione, dipingere, e guidare in un'assolata Los Angeles. Guardalo qui sotto.
Alla realizzazione dell'album hanno contribuito Nico Muhly, Thomas Bartlett e il compositore Gavin Bryars che ha arrangiato gli archi, i fiati e i cori.
La copertina è stata disegnata dall'illustratore Ed Steed (famoso per le copertine del noto magazine The New Yorker) e sarà disponibile in quattro diverse varianti. La versione deluxe del disco sarà in vinile colorato "alluminio e rame" e vedrà tutte e quattro le varianti dell'artwork in una copertina personalizzabile, insieme ad un poster pieghevole e ad una carta dei tarocchi olografica.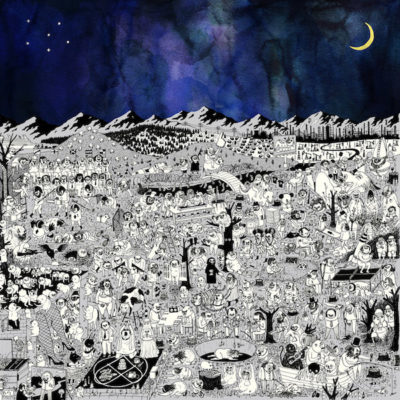 01 Pure Comedy
02 Total Entertainment Forever
03 Things It Would Have Been Helpful to Know Before the Revolution
04 Ballad of the Dying Man
05 Birdie
06 Leaving LA
07 A Bigger Paper Bag
08 When the God of Love Returns There'll Be Hell to Pay
09 Smoochie
10 Two Wildly Different Perspectives
11 The Memo
12 So I'm Growing Old on Magic Mountain
13 In Twenty Years or So