I 

The Membranes

 sono un gruppo formato agli albori degli anni '80 dal bassista
John Robb

. Rimasero attivi dal 1981 al 1989, incidendo 6 album ed una manciata di singoli ed EP. Il loro era un art-punk interessante e spigoloso, arguto e scazzato, ma non privo di una spiccata componente pop.

La loro produzione fu varia e qualitativamente superiore alla media, ma riuscirono a catturare solo lo status di gruppo di culto e l'ammirazione di una piccola fetta di pubblico tra cui, fortunatamente, c'erano anche alcuni personaggi di un certo rilievo per la storia del rock tra cui John Peel, Mark Stewart e Steve Albini, che produsse il loro penultimo album in studio 'Kiss Ass… Godhead!' del 1988. Dopo lo scioglimento del gruppo, Robb  si dedicò quasi esclusivamente al mestiere di giornalista, sia televisivo per la BBC sia come autore di libri, pubblicando, tra le altre cose, anche una splendida retrospettiva sul periodo punk intitolata Punk Rock: An Oral History, fino a quando nel 2010 decise di riformare la band.

Mai decisione fu più azzeccata, perché il silenzio discografico è stato interrotto prepotentemente nel corso del 2015 con un album doppio intitolato 'Dark Matter/Dark Energy', un lavoro che ce li fa ritrovare in forma strepitosa. La band di Blackpool mostra subito un'energia ed una forza inaudita, aggredendo subito il malcapitato ascoltatore con l'epico assalto di "The Universe Explodes Into A Billion Photons Of Pure White Light", dove sembra che questi 26 anni non siano mai passati, vista la forza con cui Robb maltratta il suo basso e strepita al microfono, mentre nel finale le tastiere e le scariche elettriche della batteria di Rob Haynes hanno come risultato un'esplosione siderale che squarcia il cielo. Una volta aperto il varco, è facile per la band prendere il sopravvento facendo scendere di tutto dal cielo, a partire dall'anthemico e letale inno post-punk di "Do The Supernova", scelto non a caso come primo singolo e brano trainante dell'album, e a seguire un numero noise come "21st Century Man"  talmente ben riuscito che è facile immaginarlo suonato dai Big Black o dai Rapeman, magari improvvisando una haka visto il riuscito coro tribale. In "Money Is Dust" il basso caracolla disegnando traiettorie psych-funk mentre la voce sussurra sardonica traghettando come un novello Caronte una chitarra galleggiante ed una ritmica urgente verso l'altra sponda dello Stige.

Non mancano i momenti di pausa, come "The Multiverse Suite" recitata dal tecnico del CERN Joe Incandela su un tappeto di tastiere e cimbali prima che il basso poderoso riprenda il sopravvento facendo riemergere il fantasma dei Big Black con il noise-rock sparato di "Space Junk. Dark Matter" è uno strumentale diluito nello spazio, un brano in crescendo che finisce dritto dritto nella bocca vorace di "If You Enter The Arena You've Got To Be Prepared To Deal With The Lions", dove è impossibile uccidere i vecchi leoni ed uscire vittorosi dall'arena. L'influenza dei Fall è evidente nella lunga carena noise blues di "In The Graveyard", dove la voce lamentosa e il vorticoso giro di basso non lasciano prigionieri. Dopo l'altro giro post-punk di "Hail To The Lovers", ecco che i nostri ci spiazzano con una folle ballata di sghembo folk etnico come "Magic Eye (To See The Sky)", per poi concludere questa lunga epopea con una tripletta da urlo: i due numeri dub di "5776 (The Breathing Song)"  (fantascientifico e quasi ambient con la voce filtrata), e "The Hum Of The Universe" (più allungata e robusta), inframmezzati da una delle migliori tracce del lotto, quella "Dark Energy" dallo sviluppo fiammeggiante e funkeggiante che avvolge, si insinua grazie all'ausilio del violoncello, e finalmente conquista.

Che altro aggiungere? John Robb ha fatto un lavoro pazzesco con questo album concepito dopo un colloquio avuto proprio al CERN sul Bosone di Higgs. I temi su cui si incentra l'album sono dovuti a quella conversazione: esplosioni nello spazio, particelle elementari, creazione dell'universo, uniti a profonde riflessioni sulla morte (il padre di Robb è venuto a mancare proprio durante le registrazioni). La band si ricorda del suo passato meravigliosamente anarchico, riprendendo i suoni da loro sciorinati e sintetizzati negli anni '80 ma attualizzandoli dinamicamente ai giorni nostri e aumentandone ancora, se possibile, l'energia ed il groove.

Nell'anno delle reunion, o dei nuovi album di band del passato che non si sono mai davvero sciolti (come The Fall, Alternative TV o Wire), quella dei The Membranes sembra davvero essere quella più vigorosa e convincente. Non resta altro che vederli sul palco, dovrebbero tornare in primavera in Italia, io non vorrei davvero perdermeli.
Recensione scritta per Oca Nera Rock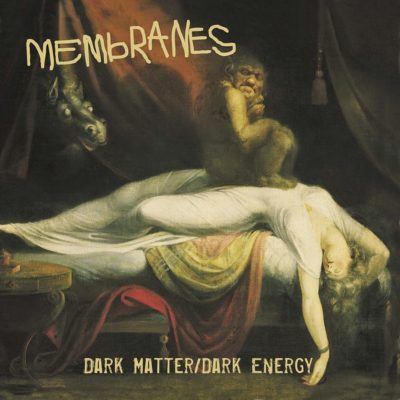 01.  
The Universe Explodes Into A Billion Photons Of Pure White Light

   5:19
02.  
Do The Supernova

   4:06
03.  
21st Century Man

  2:22
04.  
Money Is Dust

   7:52
05.  
The Multiverse Suite

  2:39
06.  
Space Junk

   3:10
07.  
Dark Matter

   5:50
08.
If You Enter The Arena You've Got To Be Prepared To Deal With The Lions

 3:34
09.  
In The Graveyard

   8:52
10.  
Hail To The Lovers

  2:04
11.  
Magic Eye (To See The Sky)

   6:15
12.  
5776 (The Breathing Song)

   3:19
13.  
Dark Energy

  6:21
14.  
The Hum Of The Universe

   6:48