Il successore di Humanz verrà pubblicato il 29 giugno
La band ha condiviso due nuove tracce: "Humility" (featuring George Benson) e "Lake Zurich"
Il nuovo album dei Gorillaz ha una data di uscita. Damon Albarn e Jamie Hewlett pubblicheranno il nuovo album The Now Now (attraverso la Warner Bros./Parlophone) il 29 giugno. Guarda la copertina del disco e leggi la tracklist qui sotto. L'album è stato prodotto da James Ford dei Simian Mobile Disco e da Remi Kabaka, e vede la partecipazione di alcuni ospiti selezionati come George Benson, Jamie Principle, e Snoop Dogg, che aveva già prodotto una canzone all'inizio dell'anno insieme ad Albarn intitolata "Hollywood". Al ritorno della band dopo sei anni, Humanz, avevano invece collaborato oltre 15 ospiti.
L'uscita del disco ha seriamente rischiato di essere compromessa per un curioso incidente capitato a Damon Albarn. Infatti dopo una serata al locale londinese Groucho, la mente della band ha dimenticato in un taxi il laptop contenente il master del disco, e i costosi visual del gruppo. Fortunatamente, il tassista si è accorto della dimenticanza e ha subito riportato tutto ad Albarn. I Gorillaz hanno appena condiviso i primi due brani estratti dal nuovo disco, "Humility" (featuring George Benson) e "Lake Zurich", ascoltali qui sotto. Il video di "Humility", diretto da Jamie Hewlett e girato interamente a Venice Beach, vede 2D andare in giro sui pattini e il noto attore Jack Black suonare per strada.
La band ha annunciato le date del tour di supporto al nuovo lavoro e ha confermato il ritorno del loro Demon Dayz Festival che si trasferirà il 20 Ottobre a Los Angeles per la sua seconda edizione. Puoi vedere le date del tour qui sotto. L'unico appuntamento con il pubblico italiano è per il 7 Luglio quando la band si esibirà al Lucca Summer Festival.
Albarn ha anche rivelato che è in rampa di lancio anche il secondo album dei The Good, The Bad & The Queen. Il gruppo composto da Albarn, Paul Simonon (The Clash), Simon Tong (The Verve), e dal batterista Tony Allen aveva pubblicato nel gennaio del 2007 l'album The Good, The Bad & The Queen, prodotto da Danger Mouse.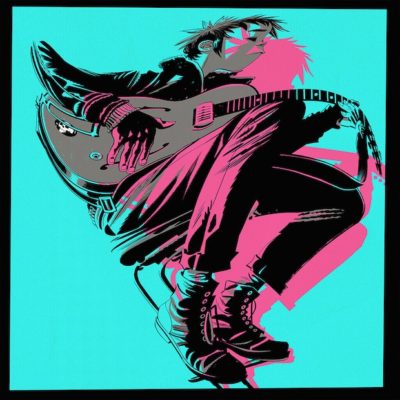 01. Humility [ft. George Benson]

02. Tranz
03. Hollywood [ft. Snoop Dogg e Jamie Principle]

04. Kansas

05. Sorcererz

06. Idaho

07. Lake Zurich

08. Magic City

09. Fire Flies

10. One Percent

11. Souk Eye
Giugno:
01 Norimberga, Germania – Rock Im Park
09 Dublino, Irlanda – Malahide Castle
14 Barcellona, Spagna – Sonar Festival
21 Chiba, Giappone – Makuhari Messe
30 Roskilde, Danimarca – Roskilde Festival
Luglio:
04 Gydnia, Belgio – Open'er Festival
05 Werchter, Belgio – Rock Werchter
07 Lucca, Italia – Lucca Summer Festival
11 Berna, Svizzera – Gurtenfestival
12 Bilbao, Spagna – Bilbao BBK Live
19 Carhaix, Francia – Vieilles Charrues
21 Parigi, Francia – Lollapalooza
25 Kiev, Ucraina – U-Park Festival
27 Mosca, Russia – Park Live Festival
Agosto:
08 Budapest, Ungheria – Sziget Festival
09 Ovington, Inghilterra – BoomTown Fair
16 St Pölten, Austria – FM4 Frequency Festival
17 Biddinghuizen, Olanda – Lowlands Festival
Ottobre:
08 Toronto, Ontario – Air Canada Centre
09 Montreal, Quebec – Bell Centre
11 Philadelphia, PA Wells Fargo Center
13 New York, NY – Barclays Center
14 Boston, MA – TD Garden
16 Chicago, IL – United Center
20 Los Angeles, CA – Demon Dayz Festival