Sketches of Brunswick East, il nuovo LP in collaborazione con il collettivo Mild High Club, è il loro terzo album uscito nel 2017!
La scorsa settimana, i King Gizzard & the Lizard Wizard avevano messo all'asta su eBay i test pressings del loro terzo album registrato quest'anno, la collaborazione con i Mild High Club (collettivo capitanato da Alex Brettin) intitolato Sketches of Brunswick East. la copia, firmata dagli autori, era stata messa all'asta al solo scopo di raccogliere fondi per persone in stato di bisogno, ed è stata venduta per la cidra di circa 3000 dollari australiani (poco più di 2000 euro).
Oggi, a sorpresa, l'etichetta della band, la ATO, ha pubblicato l'album anche fisicamente. Il collettivo psichedelico australiano, ha suonato l'intero album live sul loro Facebook live stream. Qui sotto puoi ascoltare l'album e guardare tracklist e copertina. L'edizioni fisiche dell'LP saranno disponibili all'inizio di ottobre ma già da adesso è possibile pre-ordinarle. Nel corso del 2017, la band ha già pubblicato due album, a febbraio Flying Microtonal Banana e in giugno Murder of the Universe. La band ha addirittura pianificato di pubblicare cinque album prima della fine del 2017!
Il progetto è stato ispirato dal Brunswick East, il sobborgo di Melbourne suburb dove i King Gizzard scrivono e registrano. "Facciamo sempre su e giù per la strada tutto il giorno," ha detto il frontman Stu Mackenzie. "Prendendo un caffè, portando gli amplificatori, anche solo passeggiando costantemente lungo Lygon Street… e guardiamo come cambia la visuale mentre vengono tirati su nuovi edifici e appartamenti, mentre le gru vengono sostituite da gru ancora più grandi. A questo riguardo, forse saranno anche cambiamenti meravigliosi che devono avvenire nel mondo in generale, e questo disco è il nostro tentativo di trovare sempre fascino e bellezza nel posto dove passiamo la maggior parte del nostro tempo."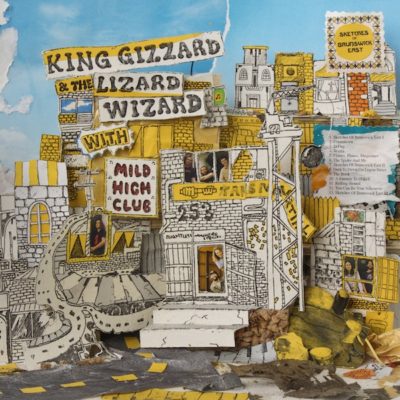 Sketches of Brunswick East
01. Sketches Of Brunswick East I
02. Countdown
03. D-Day
04. Tezeta
05. Cranes, Planes, Migraines
06. The Spider And Me
07. Sketches Of Brunswick East II
08. Dusk To Dawn On Lygon Street
09. The Book
10. A Journey To (S)hell
11. Rolling Stoned
12. You Can Be Your Silhouette
13. Sketches Of Brunswick East III