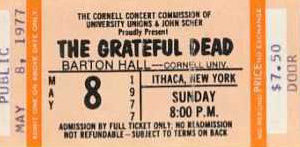 L'8 maggio 1977, i Grateful Dead tennero un concerto leggendario alla Barton Hall della Cornell University di Ithaca, NY durante il loro Terrapin Station tour. Dopo essere stato venduto nel corso degli anni come bootleg tra i fans, quel concerto verrà finalmente pubblicato in maniera ufficiale per celebrarne degnamente il 40° anniversario. L'intera performance della band è stata rimasterizzata dai nastri originali e sarà disponibile in due versioni, una da 3 CD e l'altra da 5 LP sotto il titolo di CORNELL 5/8/77. Vedi la copertina qui sotto. Lo stesso concerto farà parte di un cofanetto ancora più esteso: infatti gli 11 CD che compongono May 1977: Get Shown the Light, includeranno, oltre a quelle di Cornell, le registrazioni di altri tre concerti suonati dalla band nel 1977 e mai pubblicati prima (Veterans' Memorial Coliseum a New Haven, Connecticut il 5 maggio, Boston Garden a Boston, Massachusetts il 7 maggio e Buffalo Memorial Auditorium a Buffalo, New York il 9 maggio). Tutte le versioni sono disponibili per il pre-order sul sito ufficiale della band e verranno pubblicate dalla Rhino Records il 5 maggio.
Ascolta seguendo questo link la versione di "Morning Dew" tratta da quello storico concerto suonato dai Grateful Dead nella line-up a sette che comprendeva Jerry Garcia, Donna Jean Godchaux, Keith Godchaux, Mickey Hart, Bill Kreutzmann, Phil Lesh e Bob Weir. Il cofanetto Get Shown the Light, è limitato a 15.000 copie numerate singolarmente, e sarà disponibile per il pre-order esclusivamente sul sito dei Dead.
La leggendaria band ha recentemente annunciato di voler ristampare il loro intero catalogo per celebrare degnamente il loro 50°anniversario. La prima di queste ristampe, quella dell'eponimo esordio uscito nel 1967, è stata pubblicata il mese scorso.