Il 13 maggio Iggy Pop ha suonato nella storica Royal Albert Hall di Londra durante il Tour di promozione del suo nuovo album 'Post Pop Depression'. Il 28 ottobre la Eagle Rock Entertainment pubblicherà la registrazione completa di quel concerto. 'Post Pop Depression Live at The Royal Albert Hall' sarà disponibile sia nella versione digitale che in quella fisica. che includerà il Blu-Ray oppure il DVD del film, e 2 CD con le tracce audio.
La band con cui Iggy Pop si è esibito quella sera comprendeva Josh Homme dei Queens of the Stone Age/Eagles of Death Metal (che ha collaborato con Iggy proprio su 'Post Pop Depression'), Dean Fertita e Troy Van Leeuwen (anche loro dei QOTSA), Matt Helders degli Arctic Monkeys, e Matt Sweeney dei Chavez. la scaletta comprende sia canzoni del nuovo album, che canzoni tratte dai due album registrati in collaborazione con David Bowie: 'The Idiot' e 'Lust for Life'. Guarda qui sotto l'artwork, la tracklist ed il video di "The Passenger" tratto dal film.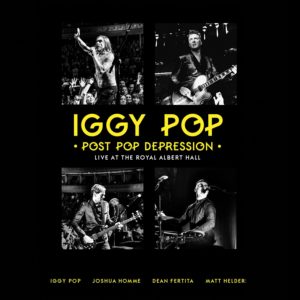 Verso la fine dell'anno, uscirà anche 'Gimme Danger', l'atteso documentario su Iggy and the Stooges  diretto da Jim Jarmusch.
Post Pop Depression Live at The Royal Albert Hall:
01. Lust For Life
02. Sister Midnight
03. American Valhalla
04. Sixteen
05. In The Lobby
06. Some Weird Sin
07. Funtime
08. Tonight
09. Sunday
10. German Days
11. Mass Production
12. Nightclubbing
13. Gardenia
14. The Passenger
15. China Girl
16. Break Into Your Heart
17. Fall In Love With Me
18. Repo Man
19. Baby
20. Chocolate Drops
21. Paraguay
22. Success
[display_video youtube="D9srgtTTVwk"]