Jack White ha annunciato l'uscita di un album che ripercorrerà tutta la sua carriera. Acoustic Recordings 1998-2016, verrà pubblicato il 9 settembre dalla Third Man/Columbia nelle versioni doppio CD, doppio LP e digitale. Come suggerito dallo stesso titolo, si tratta di una compilation di 26 tracce che comprende non solo B-sides e versioni alternative di canzoni sia dei White Stripes che dei The Raconteurs, ma anche varie selezioni della carriera solista di White. Acoustic Recordings include anche una canzone inedita dei White Stripes intitolata "City Lights." Ascoltala qui sotto. Preordinando l'album adesso, è già possibile effettuare il download di "City Lights". La canzone era stata scritta in origine per "Get Behind Me Satan", ma non era stata mai completata prima di quest'anno. Il comunicato stampa recita così: "È la prima nuova canzone dei White Stripes ad essere pubblicata e messa in commercio dal 2008."
White ha scritto e prodotto tutti i brani fatta eccezione per "Honey, We Can't Afford to Look This Cheap," prodotta da Beck , "Never Far Away," prodotta da T. Bone Burnett ,"Carolina Drama," scritta e prodotta insieme a Brendan Benson suo compagno nei Raconteurs, e "Machine Gun Silhouette," scritta insieme all'artista Rob Jones. Tutti i brani sono stati rimasterizzati nel corso del 2016 da Andrew Mendelson al Georgetown Masters Studio di Nashville.
Acoustic Recordings avrà anche all'interno un libretto con le note di copertina scritte dallo scrittore e critico musicale Greil Marcus. La tracklist è stata compilata in rigoroso ordine cronologico. Guardala qui sotto insieme all'artwork del disco e al trailer dell'album.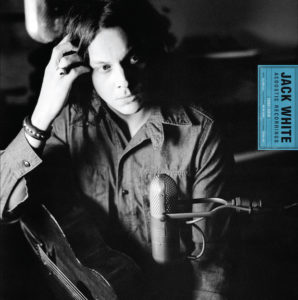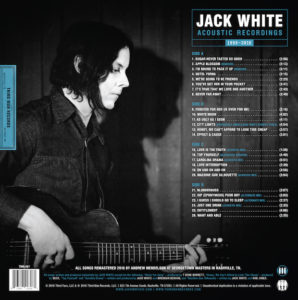 Acoustic Recordings 1998-2016:

01. Sugar Never Tasted So Good
02. Apple Blossom (Remixed)
03. I'm Bound to Pack It Up (Remixed)
04. Hotel Yorba
05. We're Going to Be Friends
06. You've Got Her in Your Pocket
07 .It's True That We Love One Another
08 .Never Far Away
09. Forever for Her (Is Over for Me)
10. White Moon
11. As Ugly as I Seem
12. City Lights
13. Honey, We Can't Afford to Look This Cheap
14. Effect & Cause
15. Love Is the Truth (Acoustic Mix)
16. Top Yourself (Bluegrass Version)
17. Carolina Drama (Acoustic Mix)
18. Love Interruption
19. On and On and On
20. Machine Gun Silhouette (Acoustic Mix)
21. Blunderbuss
22. Hip (Eponymous) Poor Boy (Alternate Mix)
23. I Guess I Should Go to Sleep (Alternate Mix)
24. Just One Drink (Acoustic Mix)
25. Entitlement
26. Want and Able