Nel corso del 2012, Bonnie "Prince" Billy e la sua band hanno suonato diverse canzoni dei Mekons durante i loro concerti. La stessa band, composta da Angel Olsen, Emmett Kelly (the Cairo Gang), Ben Boye, Van Campbell, e Danny Kiely, ha registrato in studio un intero album di cover dedicato alla storica band post punk di Leeds sotto il nome di Chivalrous Amoekons. L'album si intitola Fanatic Voyage e verrà pubblicato dalla Sea Note il 16 settembre. I profitti dell'album saranno a favore di una scuola di musica per bambini di New Orleans chiamata Roots of Music. Guarda qui sotto artwork e tracklist.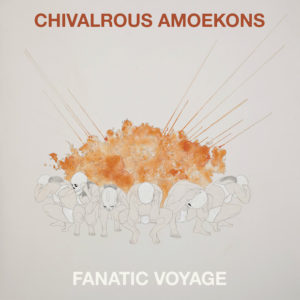 Fanatic Voyage:
01. The Curse
02. Love Letter
03. Big Zombie
04. Powers & Horror *
05. (Sometimes I Feel Like) Fletcher Christian
06. Thee Olde Trip to Jerusalem
07. I Am Crazy
08. Last Dance
09. Fantastic Voyage
10. Revenge * (solo su cassetta)
11. One x One
12. Chivalry
Ma Will Oldham non ha alcuna intensione di fermarsi. Infatti il songwriter di Louisville ha annunciato un'altra uscita. Infatti i Trembling Bells e Bonnie "Prince" Billy pubblicheranno il loro live album intitolato The Bonnie Bells of Oxford il 20 ottobre attraverso l'etichetta Tin Angel. Ascolta il brano "Love Made an Outlaw of My Heart" qui. Guarda anche l'artwork, la tracklist ed il trailer dell'album qui sotto.
The Bonnie Bells of Oxford:
01. Rainbow/Jolly
02. Goat and Ram
03. Husband/Riding
04. Excursions Into Assonance
05. So Everyone
06. Love Made an Outlaw of My Heart
07. All Gone, All Gone
08. Bottom/No God/Bottle
09. Love Is a Velvet Noose