Comprende tracce rare ed inedite
Richard Hell and the Voidoids (la band che vedeva insieme a Hell i chitarristi Robert Quine e Ivan Julian, oltre al batterista Marc Bell) festeggiano il 40° anniversario del loro seminale album di debutto Blank Generation pubblicando una splendida ristampa. L'album, pubblicato originariamente nel 1977 dalla Sire Records, è stato uno dei più influenti ed importanti usciti dalla scena punk di New York alla fine degli anni '70. La 40th Anniversary Deluxe Edition sarà disponibile nelle versioni doppio CD e doppio vinile durante il Black Friday del Record Store Day che quest'anno verrà celebrato il 24 novembre nei negozi di dischi indipendenti che hanno aderito all'iniziativa. La versione in CD sarà limitata a 5250 copie, mentre in vinile saranno disponibili solo 4500 copie.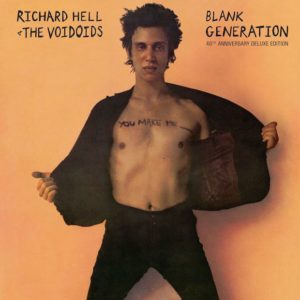 La ristampa di Blank Generation (vedi la copertina qui sopra) è stata completamente rimasterizzata e comprende diverse versioni in studio alternative mai pubblicate prima, singoli fuori catalogo, e alcune rarissime tracce live tratte dal concerto di debutto della band al CBGB, lo storico locale simbolo del punk newyorkese. Il libretto incluso comprende un articolo scritto da Hell, immagini e scritti tratti dai suoi vecchi taccuini, alcune foto inedite scattate da Roberta Bayley, ed un'intervista fatta dallo stesso Hell al chitarrista Ivan Julian.
Lo scorso anno, Hell aveva pubblicato un album intitolato Quinte/Hell in memoria di Robert Quine, chitarrista dei The Voidoids, che si era suicidato nel 2004. Il disco conteneva lavori solisti di Quine, tracce composte insieme a Hell, e conteneva un libretto di 68 pagine. Hell aveva anche fatto alcuni concerti di beneficenza con artisti come Thurston Moore, Lee Ranaldo, e Debbie Harry per supportare l'altro chitarrista Ivan Julian nella sua lotta contro il cancro.