Mettere la puntina sul disco e venire trascinati con la memoria verso un circo oppure una delle fiere paesane cui tutti, più o meno, abbiamo partecipato non è cosa da poco.
L'effetto è ancora più forte quando una voce femminile che ci ricorda per timbrica Grace Slick si impadronisce del brano, mentre sullo sfondo la banda suona con gran potenza di ottoni dissonante e evocativa per poi rallentare fino a scomparire. Chi sarà mai a poter produrre un effetto tale alla fine degli anni '60? Andiamo a ritroso nel tempo, fino ai primi anni '60 quando un certo Joseph Byrd, dopo aver suonato prima del sano country e poi il vibrafono in un gruppo jazz, ed aver fatto comunella con LaMonte Young ed altri intellettuali del tempo alla Stanford University, parte per New York per studiare composizione insieme a John Cage. Non contento trova il tempo di diventare amico di Yoko Ono, scrivere recital e studiare da produttore. Insomma, si da parecchio da fare nel salotto "buono" di NYC.
Una volta trovata la sua musa ispiratrice nella cantante Dorothy Moskowitz, prende armi e bagagli e torna nella sua West Coast pieno di idee da realizzare. A Los Angeles il nostro eroe decide di fare le cose sul serio, di rompere con la tradizione, e di portare a compimento il suo mix di psichedelia, testi che attaccano duramente usi e costumi americani, esoterismo, effetti elettronici, musica da strada. Il gruppo si chiama ironicamente proprio The United States Of America, e vede oltre allo stesso Byrd alle tastiere, Moog e nastri, la suddetta musa Dorothy Moskowitz alla voce, il batterista e percussionista amante della musica esotica Craig Woodson, il bassista jazz Rand Forbes e il violinista elettrico Gordon Marron. Già la formazione dice molto delle velleità artistiche di Byrd, e del suo eroico tentativo di fare rock alla fine degli anni '60 senza usare lo strumento principe del rock: la chitarra.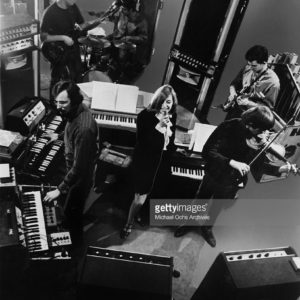 Il brano di apertura si chiama The American Metaphysical Circus, come il titolo dell'album del "nuovo" gruppo che Byrd formerà un anno più tardi, Joe Byrd and The Field Hippies. Un'apertura, come detto, che ci porta in questo strano mondo tra musica da strada e liriche ricolme di satira sulla way of life a stelle e strisce. Hard Coming Love è un numero più convenzionale per quegli anni e non a caso viene scelto dalla Sundazed molti anni dopo, nel 2004, in una splendida versione registrata live in studio nel 1967 per essere pubblicato come singolo in un 7″ giallo canarino. Dopo la lenta Cloud Song dominata dalla voce potente della Moskowitz, ecco arrivare un vero e proprio inno psichedelico come The Garden Of Earthly Delights dove le distorsioni hard sono prodotte non dalle chitarre ma dai sintetizzatori. C'è spazio per un numero da big band per orchestra e diavolerie elettroniche come I Won't Leave My Wooden Wife For You, Sugar, sorta di vaudeville cantata dallo stesso Byrd e aperta parodia della vecchia canzone da music hall  "I Wouldn't Leave My Little Wooden Hut for You" di Tom Mellor e Charles Collins. Where Is Yesterday apre il secondo lato con un salmodiare in latino e le voci della Moskowitz e di un coro gregoriano che si rincorrono fino a quando una sorta di gong elettronico lancia il brano, stavolta perfetto nella sua classicità. C'è ancora tempo per una splendida Coming Down ed una politica Love Song For The Dead Ché che rallenta i ritmi con maestria. Stranded In Time è tanto breve quanto visionaria, condotta magistralmente dal violino di Marron. E lascia presto strada al gran finale di marca Zappiana, la suite in tre movimenti di The American Way of Love: incredibile summa della composizione Byrdiana. Quasi 7 minuti fragorosi dove tutti gli elementi messi in piedi riescono ad incastrarsi magistralmente senza mai essere cacofonici, dove convivono gli ottoni da banda cittadina, la psichedelia, le diavolerie elettroniche, la sezione ritmica jazz,  le voci di Byrd e della Moskowitz, per poi sfumare in una nuvola da mago di Oz, tanto plateale quanto riuscita, tanto da chiedersi se tanto ben di Dio è stato reale o semplicemente un sogno diurno.
L'album, naturalmente, ebbe una pessima riuscita commerciale, ma la sintesi tra parodia, sperimentalismo e psichedelia elettronica, ha creato un seguito molto interessante, ed echi della lucida "follia" di Joseph Byrd si possono ascoltare qua e là anche in produzioni più recenti, in un certo kraut rock e in quell'altra sintesi musicale chiamata trip-hop. Nel 2008 la Sundazed Records ha ristampato il vinile in una splendida edizione per audiofili in 180 gr. con busta e inserti uguali all'originale, fossi in voi ci farei più di un pensierino.

THE UNITED STATES OF AMERICA

(Columbia – 1968):
1.   The American Metaphysical Circus   4:56
2.   Hard Coming Love  4:42
3.   Cloud Song   3:18
4.   The Garden Of Earthly Delights   2:39
5.   I Won't Leave My Wooden Wife For You, Sugar  3:51
6.   Where Is Yesterday   3:07
7.   Coming Down   2:38
8.   Love Song For The Dead Ché   3:25
9.   Stranded In Time   1:50
10. The American Way Of Love   6:38
       i) Metaphor For An Older Man
      ii) California Good-Time Music
     iii) Love Is All