Nasce a White Plains, New York, John York. Fu il bassista dei The Byrds per una sola stagione, dal 1968 al 1969, dopo aver sostituito Chris Hillman. Prima di unirsi ai The Byrds, York è stato membro dei The Bees e Sir Douglas Quintet, e aveva anche collaborato con The Mamas & the Papas e Johnny Rivers. E' stato anche il bassista della band portata in tour dall'ex Byrds Gene Clark.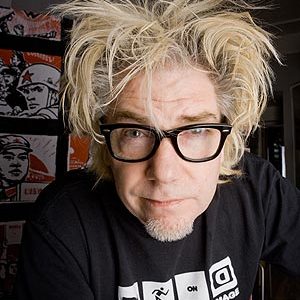 Nasce a Coventry, Martin Atkins, batterista dei Public Image Ltd dal 1979 al 1980 e dal 1982 al 1985. Atkins ha suonato tra gli altri, anche con Killing Joke, Pigface, Ministry e Nine Inch Nails. Ha anche capeggiato formazioni parallele quali Brian Brain e The Damage Manual, ritrovando in quest'ultima il bassista Jah Wobble, già nei Public Image Ltd., e Geordie, già nei Killing Joke.
Nasce a Downey, California, James Hetfield (foto di copertina), cantante, chitarrista ritmico e principale compositore dei Metallica. Nel 1981 Hetfield rispose all'annuncio sulla fanzine "The Recycler", pubblicato dal batterista Lars Ulrich che voleva fondare una band. In poche settimane i due reclutarono il bassista McGovney ed alcuni chitarristi transitori, tra cui Brad Parker e Jeff Warner. La loro prima sessione di prove fu sostenuta nel garage di Ulrich, da McGovney, da Hetfield e da Lloyd Grant. Nei primi mesi del 1982 la band prese il nome di Metallica, e registrò la prima canzone, "Hit the Lights", che fu pubblicata nella raccolta Metal Massacre e poi inserita nella futura lista tracce del loro primo disco. Pochi mesi dopo questa pubblicazione, Ulrich ingaggiò come chitarrista definitivo dei Metallica, al posto di Lloyd Grant, Dave Mustaine, originario di Huntington Beach ed ex membro dei Panic. McGovney se ne andò poco dopo, mentre Mustaine venne cacciato dallo stesso Hetfield e da Ulrich, per il suo carattere rissoso e per il suo continuo abuso di droga ed alcol, che non gli permetteva di concentrarsi sulla musica. Poco prima delle registrazioni di Kill 'Em All (1983), arrivarono quindi Kirk Hammett alla chitarra e Cliff Burton al basso. Hetfield è diventato famoso anche per i numerosi incidenti durante i concerti con i Metallica. Il più noto è probabilmente quello accaduto durante il concerto Guns N' Roses-Metallica nel 1992 allo Stadio Olimpico di Montréal. Durante l'esecuzione della canzone "Fade to Black", Hetfield si trovava su una torre di fuochi d'artificio proprio nel momento dell'esplosione. Questo incidente gli causò ustioni di secondo e terzo grado al braccio sinistro e al volto, costringendolo a continuare il tour senza essere in grado di suonare la chitarra. Nonostante quello che successe, continuò a cantare con il supporto del chitarrista John Marshall, chitarrista ritmico del gruppo Metal Church.
I The Beatles salgono per l'ultima volta sul palco del The Cavern Club a Liverpool. Il compenso fu di £300, mentre per la loro prima serata in assoluto al Cavern il rimborso fu di appena £5.
I The Rolling Stones entrano nei RCA Studios di Los Angeles per registrare il loro nuovo album Between The Buttons. Ci resteranno per nove giorni consecutivi registrando canzoni come: "Have You Seen Your Mother", "Baby, Standing In The Shadow?", "Let's Spend The Night Together", "My Obsession", "Yesterday's Papers" e "Back Street Girl".
The Doors arrivano al N°1 delle classifiche americane con il singolo "Hello, I Love You", Il brano, tratto da Waiting For The Sun, rimase in testa per tre settimane consecutive e fu il loro secondo N°1 negli States. "Hello I Love You", fu nella Top 5 in contemporanea con la versione di "Light My Fire" interpretata da Jose Feliciano, così la band ebbe ben due canzoni in simultanea nella Top 5.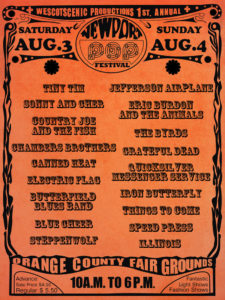 Inizia a Costa Mesa, California, il Newport Pop Festival con Alice Cooper, Canned Heat, Chambers Brothers, Charles Lloyd Quartet, Country Joe and the Fish, Electric Flag, James Cotton Blues Band, Paul Butterfield Blues Band, Sonny & Cher, Steppenwolf e Tiny Tim. Il pubblico fu stimato in oltre 100.000 presenze.
Paul McCartney annuncia la formazione del suo nuovo gruppo, i Wings. Insieme a lui e alla moglie Linda, ci sono Denny Laine, ex chitarrista e cantante dei Moody Blues, ed il batterista Denny Seiwell.
Stevie Wonder pubblica Innervisions, il suo 16° album in studio. Wonder suonò tutti gli strumenti in 6 delle 9 tracce che compongono l'album. L'album contiene alcuni dei grandi classici dell'artista come "Higher Ground", "Living for the City" e "He's Misstra Know-It-All". Tre giorni dopo la pubblicazione del disco Wonder ebbe un terribile incidente d'auto mentre tornava da un concerto nel South Carolina. La macchina guidata dal suo amico John Harris tamponò un camion pieno di tronchi d'albero. Uno di questi sfondò il parabrezza della macchina e colpì l'artista sul cranio. Wonder rimase quattro giorni in coma prima di riprendersi lentamente.
L'album di esordio dei Bad Company arriva al N°1 nella classifica statunitense. La band era formata da ex membri dei Free (Paul Rodgers & Simon Kirke), Mott The Hoople (Mick Ralphs), e King Crimson, (Boz Burrell).
I Tears For Fears arrivano in vetta alle classifiche americane dei singoli con "Shout". Il loro secondo N°1 in USA rimarrà in testa per tre settimane. Il brano era il secondo singolo estratto dall'album Songs from the Big Chair, dove Roland Orzabal e Curt Smith abbandonarono per sempre i temi leggeri del pop per concentrare la loro attenzione sull'era del governo di Reagan negli USA e della Thatcher nel Regno Unito. Il titolo dell'album si ispirava a una mini-serie britannica famosa, Sybil, la storia di una donna dalla personalità multipla che spesso si rifugiava nella sua personale "grande sedia" (in inglese, big chair).
I Def Leppard pubblicano Hysteria , il loro quarto album, che divenne il loro maggior successo con oltre 20 milioni di copie vendute. Il suo processo di creazione fu molto lungo (oltre 3 anni) e tormentato da parecchi problemi, come l'incidente stradale che costò al batterista Rick Allen la perdita del braccio sinistro. È l'ultimo album a cui ha preso parte il chitarrista Steve Clark, morto l'8 gennaio 1991. Il titolo dell'album venne in mente proprio ad Allen, ed è legato alle sue esperienze durante il periodo di riabilitazione dal suo incidente d'auto e all'interesse mediatico che ne conseguì.
Dopo un'assenza durata ben 37 anni, Bob Dylan torna sul palco del Newport Folk Festival. Dylan, indossando una barba finta ed una parrucca, suonò per più di 2 ore. La scaletta consisteva in ben 19 canzoni tra cui "Subterranean Homesick Blues", "Desolation Row", "Positively 4th Street", "The Wicked Messenger", "Like A Rolling Stone" e "Mr. Tambourine Man".
Arthur Lee cantante e chitarrista dei Love, uno dei gruppi più importanti e seminali dei '60, muore a 61 anni a Memphis dopo una lunga lotta contro la leucemia.  Il "primo hippie nero", come amava chiamarsi, aveva fondato i Love a Los Angeles nel 1965. I due album della band usciti a cavallo tra 1966 e 1967, Da Capo e Forever Changes sono stati riconosciuti da molti musicisti negli anni a venire come vere e proprie pietre miliari del rock-folk psichedelico.