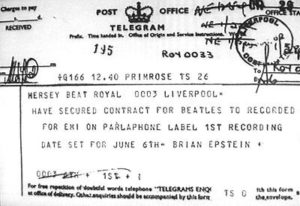 1967 – Viene pubblicato il primo numero della famosa rivista statunitense

Rolling Stone

. All'interno, uno dei due fondatori, Jann Wenner, spiega che il titolo del magazine si riferisce alla canzone blues "Rollin' Stone", registrata da Muddy Waters, dalla band The Rolling Stones, e dalla canzone di Bob Dylan "Like a Rolling Stone". Pur essendo una rivista di intrattenimento, Rolling Stone ha sempre cercato un ruolo nel dibattito politico. Le sue radici hippie le hanno dato una prospettiva editoriale liberale. Il celeberrimo Hunter S. Thompson fu il suo più grande corrispondente politico, e curò la sezione National Affairs. La rivista ha criticato aspramente l'amministrazione Bush. La copertina del primo numero vedeva John Lennon vestito da militare mentre recitava nel film How I Won the War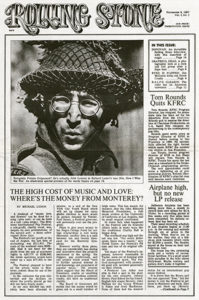 1968 – I Led Zeppelin suonano live a Londra per la prima volta in assoluto salendo sul palco dello storico

The Roundhouse

, Chalk Farm insieme a John Lee Hooker, Deviants, John James e Tyres. Il cantante Robert Plant sposò la sua ragazza Maureen a Londra nello stesso giorno e fece il ricevimento durante il concerto.
1969 – Simon and Garfunkel registrano la canzone che diventerà il loro cavallo di battaglia, "Bridge Over Troubled Water" insieme al pianoforte di Larry Knechtel e al basso di Joe Osborn. Art voleva che fosse Paul a cantare la canzone, ma Paul aveva insistito dicendo che la voce di Art era molto più adatta alla canzone, decisione di cui si pentirà più tardi. La canzone vinse ben cinque titoli al 13th Annual Grammy Awards nel 1971, tra cui quelli per Record of the Year e Song of the Year. Raggiunse la vetta delle classifiche statunitensi il 28 febbraio 1970 rimanendovi per sei settimane prima di essere rimpiazzata da "Let It Be", dei Beatles.
[display_video youtube="H_a46WJ1viA"]
1997 – Paul Weller viene arrestato e passa la notte in una prigione francese dopo aver distrutto la sua stanza di albergo. La sua etichetta dovette sborsare £4.000 per ripagare i danni. Weller venne rilasciato il giorno dopo.