1958 – Nasce a Las Vegas, Nevada, Tim Mooney, batterista e produttore. Ha suonato con molti gruppi come Sleepers e Toiling Midgets prima di diventare un membro stabile degli American Music Club dal 1991 al 2004. Più recentemente è stato batterista del progetto di Mark Kozelek chiamato Sun Kil Moon. È morto per un infarto il 13 giugno 2012. Aveva 53 anni.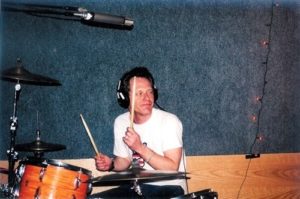 1966 – Nasce a Minneapolis, Minnesota, Thomas Eugene "Tommy" Stinson, storico bassista dei The Replacements. Nel 1998, era diventato un membro dei Guns N' Roses, ed restato nella band di Axl Rose funo a quando il bassista originario Duff McKagan si è riunito al gruppo nel 2016. Recentemente Stinson ha riformato i Bash & Pop, la band che aveva creato dopo lo scioglimento dei Replacements nel 1991. La band, capitanata da Stinson alla chitarra e voce, include vari musicisti tra cui Steve Selvidge (The Hold Steady), Luther Dickinson (North Mississippi All-Stars, The Word), Frank Ferrer (Guns N' Roses), Joe "The Kid" Sirois (The Mighty Mighty Bosstones), Cat Popper (Jack White, Ryan Adams & The Cardinals).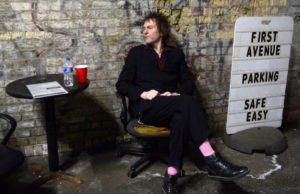 1967 – La Jimi Hendrix Experience registra una sessione per lo show radiofonico della BBC  'Top Gear'. Stevie Wonder, che doveva anche lui registrare per lo stesso show, si unisce al trio in una jam session.
1967 – I Pink Floyd fanno un'apparizione al Miss Teenage Brighton Contest, Top Rank Suite, Brighton, Inghilterra, suonando durante l'intervallo musicale del concorso…
1972 – Durante una sessione di registrazione ai RCA Studios, New York City, David Bowie registra 'The Jean Genie', che diventò il singolo principale del suo album del 1973 'Aladdin Sane'. La canzone restò 13 settimane nella classifica britannica dei singoli, arrivando al N°2, e diventando il maggior successo di Bowie. Il verso che recita "He's so simple minded, he can't drive his module" diede lo spunto ad una band di Glasgow per chiamarsi Simple Minds.
[display_video youtube="CGQo6zpVzt8″]
1979 – L'album dei Led Zeppelin 'In Through The Out Door' arriva al N°1 della classifica americana degli album. L'album vide il ritorno in studio della band a tre anni esatti dalle registrazioni del precedente Presence: il vuoto discografico era stato colmato solo con l'uscita del doppio live 'The Song Remains The Same'. È stato anche l'ultimo album pubblicato dai Led Zeppelin prima del loro scioglimento, da loro stessi annunciato l'anno seguente a due mesi dalla morte del batterista John Bonham, avvenuta il 25 settembre 1980. La copertina di 'In Through The Out Door' fu curata da Storm Thorgerson dello studio grafico Hipgnosis, celebre per le copertine di quasi tutti gli album dei Pink Floyd. Thorgerson per i Led Zeppelin aveva già realizzato le copertine di 'Houses of the Holy', 'Presence' e 'The Song Remains The Same'. La foto ritrae sette persone all'interno di un bar e fu pubblicata in sei versioni differenti: ciascuna di esse inquadra la scena dal punto di vista di uno dei soggetti in essa presenti; la busta che ricopriva il tutto doveva rendere impossibile distinguere quale delle sei diverse copertine si stesse per acquistare. Il punto di vista del settimo personaggio, quello situato al centro della scena (l'uomo in completo bianco, seduto al bancone del bar, che sta bruciando una lettera) compare invece nelle due immagini riportate nella busta interna dell'album. Queste ultime due illustrazioni, sempre nella prima edizione, apparivano in bianco e nero ma si coloravano permanentemente al contatto con l'acqua, ad esempio bagnandole con una spugna.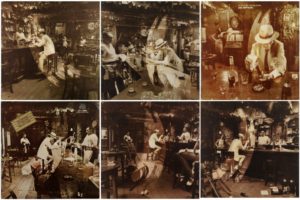 1984 – David Bowie arriva per la sesta volta in vetta alla classifica britannica degli album con 'Tonight', trainato dal singolo "Blue Jean".