1935 – Nasce a Ferriday. Louisiana, Jerry Lee Lewis, cantante e pianista. È riconosciuto tra i padri del rock n'roll con un posto nella Rock and Roll Hall of Fame nel 1986 ed uno nella Rockabilly Hall of Fame. È stato soprannominato The Killer per il suo modo selvaggio, anticonformista e ribelle di esibirsi dal vivo. Inoltre è considerato uno dei Re del Rock and Roll insieme a Chuck Berry, Bo Diddley, Elvis Presley e Little Richard. Nel 1989 Lewis fu riportato alla ribalta da un film basato sulla sua vita intitolato Great Balls of Fire! – Vampate di fuoco, soprattutto quando egli decise di ri-registrare tutte le canzoni per la colonna sonora del film. La pellicola era basata sul libro dell'ex moglie Myra, e vantava nel cast Dennis Quaidnel ruolo di Lewis, Winona Ryder nel ruolo dell'ex moglie Myra e Alec Baldwin nel ruolo del cugino e predicatore televisivo evangelico Jimmy Swaggart. È stato forse il primo folle del rock & roll. In occasione della festa per il suo 41º compleanno, nel 1976, Jerry Lee scherzando puntò una pistola contro il suo bassista, Butch Owens, e pensando che fosse scarica premette il grilletto, colpendolo nel torace. Owens sopravvisse miracolosamente.
[display_video youtube="7IjgZGhHrYY"]
1956 – 

Bill Haley

riesce ad avere ben 5 canzoni contemporaneamente nella Top 30 in Gran Bretagna: "Rockin Through The Rye", "Saints Rock n' Roll", "Rock Around the Clock", "Razzle Dazzle", e "See You Later Alligator".
1958 – Nasce a Rochester, Victoria, Australia, Michael John "Mick" Harvey, cantante, autore e polistrumentista. Harvey è conosciuto soprattutto per la sua lunga collaborazione con Nick Cave,con cui ha formato prima i Birthday Party poi Nick Cave and the Bad Seeds che ha lasciato nel 2008. Ha collaborato negli anni con molti artisti, tra cui PJ Harvey, Lydia Lunch e Scott Walker. Il suo ultimo album solista è usciti da poco e si intitola 'Delirium Tremens'.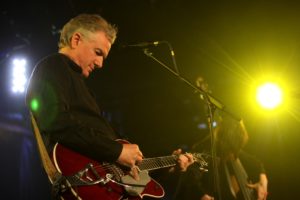 1967 – Nasce a Lindfield, Sussex, Brett Anderson, autore e cantante. Ha fatto parte dei Suede dal 1989 al 2003. Dopo lo scioglimento della band si è riappacificato con il chitarrista Bernard Butler che aveva lasciato i Suede dopo i primi due album, fondando con lui una nuova band chiamata The Tears. Anderson ha pubblicato quattro album solisti prima di far parte della reunion del suo vecchio gruppo nel 2010.
1971 – I Led Zeppelin suonano l'ultima data del loro primo tour in Giappone all'Osaka Festival Hall. Verso la fine del concerto, la band inizia a suonare un medley di canzoni durante una versione estesa di 'Whole Lotta Love', inserendo 'Let That Boy Boogie', 'I Gotta Know', 'Twist and Shout', 'Fortune Teller', 'Good Times Bad Times' e 'You Shook Me'.
1973 – I Grand Funk Railroad arrivano al N°1 delle classifiche in USA con il singolo 'We're An American Band'. Sarà il primo dei due #1 della band.
[display_video youtube="lMsIrKjSM6Y"]
1979 – The Police arrivano per la prima volta in vetta alla classifica britannica dei singoli con uno dei loro brani più famosi: 'Message In A Bottle'.
2004 – Una batteria composta da cinque pezzi, creata appositamente nel 1968 per Keith Moon degli Who, viene venduta durante un'asta londinese per £120,000 ad un collezionista americano, stabilendo il record assoluto di vendita per un drum kit.