1930 – Nasce ad Albany, Georgia, Ray Charles Robinson, cantante e pianista, considerato uno dei pionieri della musica soul, nonché uno dei musicisti più importanti di tutti i tempi. Perse completamente la vista all'età di sette anni a causa di un glaucoma. Seppe coniugare sonorità diverse, dal rhythm and blues alla musica country, dal jazz al gospel. The Genius – come era stato soprannominato per il suo straordinario talento artistico, nel 1980 apparve nel film The Blues Brothers. Frank Sinatra lo chiamò "l'unico vero genio del business". Fu uno dei primi artisti afroamericani ad essere messo sotto contratto da una grande major. Tra i suoi primi successi ci fu il singolo 'I Can't Stop Loving You' che nel 1962 arrivò in vetta alle classifiche in USA e GB.  Charles morì il 10 giugno 2004 per le complicanze di una malattia al fegato all'età di 73 anni.
[display_video youtube="vcEJakFZRgA"]
1939 – Nasce a Ozark, Arkansas il chitarrista Roy Buchanan. Buchanan ha pubblicato in carriera più di 15 albums; Jeff Beck gli dedicò nel 1975 la canzone 

"Cause We've Ended As Lovers"

  nel suo album 'Blow By Blow'. Il 14 agosto 1988 viene trovato impiccato con la sua maglietta nella sua cella della prigione del Fairfax County Adult Detention, dove era stato rinchiuso da solo a smaltire la sbornia dopo essere stato arrestato per guida in stato di ubriachezza. Aveva 48 anni.
[display_video youtube="v-_nog_lW6M"]
1949 – Nasce a Long Branch, New Jersey, Bruce Frederick Joseph Springsteen. "The Boss", come è sempre stato soprannominato, è uno degli artisti più conosciuti nell'ambito della musica contemporanea ed è considerato uno dei frontmen rock più rappresentativi. Accompagnato per gran parte della sua carriera dalla E Street Band, è divenuto famoso soprattutto per le sue coinvolgenti e lunghissime esibizioni dal vivo, raggiungendo il culmine della popolarità fra la seconda metà degli anni settanta e il decennio successivo. Fra i suoi album di maggior successo si annoverano 'Born to Run', 'Darkness on the Edge of Town', 'The River' e 'Born in the U.S.A.', lavori emblematici della sua poetica volta a raccontare  la quotidianità degli "ultimi" d'America, nel solco della tradizione dei cosiddetti storyteller, offrendo uno spaccato della grandezza e delle contraddizioni della società statunitense. In più di quarant'anni di carriera ha venduto 65 milioni di dischi nel suo paese e circa 120 milioni nel mondo. Il 27 settembre uscirà la sua autobiografia intitolata "Born To Run".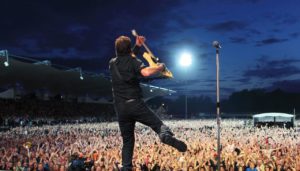 1965 – The Walker Brothers arrivano in vetta alla classifica britannica dei singoli con la loro versione di 'Make It Easy On Yourself', canzone scritta nel 1962 da Burt Bacharach. Fu il primo dei due #1 della band in Gran Bretagna.
[display_video youtube="bZTS9H-l5qQ"]
1966 – Parte dalla Royal Albert Hall di Londra il 'Rolling Stones 66' Tour, che toccherà altre 11 città della Gran Bretagna. Prima degli Stones si alternano sul palco Long John Baldry, Ike & Tina Turner e The Yardbirds (con Jimmy Page al basso e Jeff Beck alla chitarra). Michelangelo Antonioni era presente al concerto e chiese agli Yardbirds di apparire nel suo prossimo film Blow Up. Tra gli spettatori erano presenti anche Keith Moon e John Entwistle degli Who.
2000 – Come parte del loro 'Under A Big Top Tour' in Gran Bretagna, i Radiohead suonano il primo di tre concerti sold out al Tower Hamlets, Victoria Park, Londra.
[display_video youtube="1EHhH_Fe5ik"]