Il duo ha firmato per la Fat Possum, che pubblicherà il nuovo album atteso dal 2000
Scrivendo la recensione di Denver, l'album a firma Neil Michael Hagerty & The Howling Hex, avevo scritto una piccola cronistoria dei Royal Trux. Dopo aver lasciato i Pussy Galore, Hagerty aveva continuato i suoi esperimenti e le sue ricerche sul suono primitivo insieme alla sua compagna Jennifer Herrema.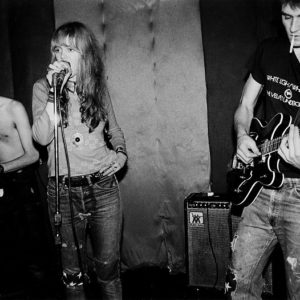 Come Royal Trux, il duo voleva fornire una dimensione più intellettuale e meno sboccata al blues primitivo, una versione modernizzata degli incubi deliranti e psichedelici di Captain Beefheart. Dopo la pubblicazione dell'album di esordio, la coppia si sposta a San Francisco per registrare quello che sarà il loro capolavoro: Twin Infinitives, un tributo ai doppi album della storia del rock e soprattutto a Trout Mask Replica del Capitano loro nume tutelare.Nelle quattro facciate dell'album il suono viene spezzettato in mille schegge di noise-rock infarcito di elettronica registrata amatorialmente. Una lucida allucinazione apocalittica dove il blues viene trasfigurato e fatto scientemente esplodere. I frammenti rimasti erano stati poi raccolti, ricomposti, allungati o rallentati a piacimento in una cosciente vivisezione della materia rock. Sembrava l'inizio di un momento d'oro, ma in realtà era un momento difficile per la coppia. Un lungo periodo di disintossicazione seguito da un'ispirazione offuscata, impedirà ai due di replicare la magia di quel disco.
I Royal Trux si sono sciolti ufficialmente nel 2000, ma Hagerty non si è mai fermato. Ha creato i The Howling Hex non rinunciando mai alla sua missione di reinventare a modo suo il rock n'roll. La buona notizia è che le voci di reunion del duo avevano un solido fondamento di realtà. Nel corso del 2017 i due hanno suonato alcuni show di riscaldamento che vedevano anche la presenza di Kid Millions (Oneida, Man Forever) dietro i tamburi e Brian McKinley al basso. E' di ieri la notizia della firma con l'etichetta Fat Possum, che ristamperà finalmente l'intero catalogo della band. Le 10 ristampe, che vanno dal loro debutto autointitolato del 1988 all'ultimo Pound for Pound uscito nel 2000, verranno pubblicate tra aprile e maggio 2018.
Ma le buone notizie non sono finite. Da quest'estate i Royal Trux entreranno in studio per registrare il loro primo album in studio da 18 anni a questa parte. Guarda qui sotto una parte di un concerto del 2017, e l'intera lista degli album di cui la Fat Possum ha pianificato la ristampa.
Royal Trux (1988)
Hand of Glory (1989)
Twin Infinitives (1990)
Untitled (1992)
Cats and Dogs (1993)
Accelerator (1998)
3-Song EP (1998)
Veterans of Disorder (1999)
Pound for Pound (2000)
Radio Video EP (2000)